GOLF EVENTS & TOURS
FLORIDA, USA "THE PLAYERS CHAMPIONSHIP 2016

11 May 2016
THE PLAYERS Championship at famed TPC Sawgrass is considered the Crown Jewel of the PGA-TOUR!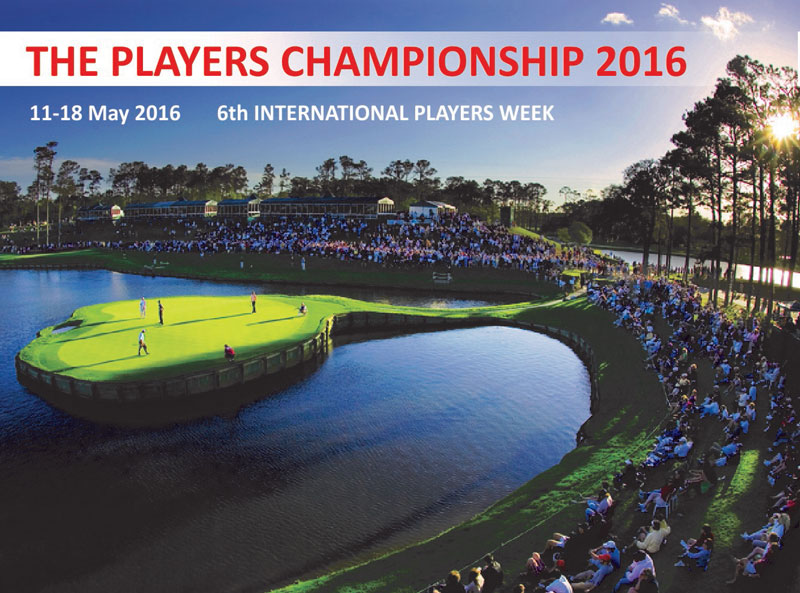 Enjoy two days watching the best TOUR Pros in the world compete in one of the most exciting tournaments of the season. In addition, play great golf at the fantastic golf courses of the area, have fun in the International PLAYERS Tournament, win some fantastic prizes and visit the renowned World Golf Hall of Fame. Interesting Sightseeing to historic St. Augustine (optional) and sensational shopping facilities at the Premium Outlet Malls of St. Augustine will add to the wonderful experience at Florida´s First Coast of Golf.
VISIT THE PLAYERS Championship 2016
Enjoy an Unbelievable Fan Experience at the Famed TPC Sawgrass
Walk with Rickie, Martin, Tiger, Rory, Adam, Sergio & Co
Watch the Best Players Challenge the Island Green!
Wet or Dry?
PLAY GOLF at CHAMPIONSHIP- LEVEL GOLF COURSES:
Slammer & Squire GC
St. Johns Golf Country Club
The Palencia Club
Participate in our 6th International Players Tournament 2016 at
King & Bear Golf Club
STAY at WORLD GOLF VILLAGE or JACKSONVILLE
CHOOSE BETWEEN:
Luxurious Apartments the Residences at World Golf Village
The popular Renaissance Hotel at World Golf Village (in combo with Double Tree by Hilton only)
ADDITIONAL HIGHLIGHTSO
Visit the Famous World Golf Hall of Fame
Explore Historic St. Augustine
Enjoy an Awards Dinner with your International Friends
Shop at Premium Outlet Malls
Dine at Various Fantastic Restaurants
Good Golfing
ANTHONY HUNT
MOB: 0409 308 499
Email: anthonyhunt@piranhagolf.com
DOWNLOAD ITINERARY
To download a PDF version of the itinerary CLICK HERE