GOLF EVENTS & TOURS
RIVERSIDE OAKS GOLF RESORT

RIVERSIDE OAKS GOLF RESORT – CATTAI, N.S.W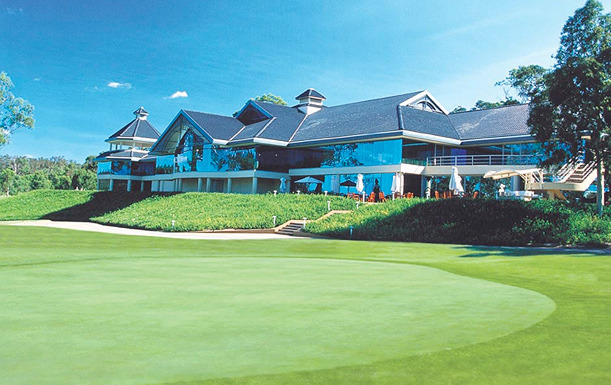 Riverside Oaks Golf Resort is set amongst 570 acres of pristine Australian bushland overlooking the magnificent Hawkesbury River and only a short drive from Sydney. Riverside Oaks embodies a unique and true Australian wilderness experience.
The Nanshan Group, which owns 15 prestige golf courses in China, has been investing heavily into the golf course and property; the improvements have been extensive and very well received.
The original championship golf course, renamed "Gangurru", is enjoying a new lease on life with a complete refurbishment of its bunkers and greens finished earlier this year. The addition of some new bunkers and tees adding to the challenge.
Riverside Oaks will soon be home to Sydney's only 36 hole championship golf resort with opening of a brand new championship course opening in early 2014. The new "Bungool" course designed by the internationally renowned Bob Harrison is a true "risk and reward" course as it ebbs and flows following the magnificent Hawkesbury River, promising a exceptional challenge for even the most seasoned and skilful golfers.
Riverside Oaks is known for its golf but the whole family will feel at home with the resort, enjoy one of our stunning villas as the family explores the amazing sites and surrounds the Hawkesbury has to offer, or enjoy the tranquil quiet curled up with a good book. Take time out to discover the club house cafe, with the best yet to come. The resort will be opening "Bungool" our signature restaurant, together with 36 stunning new lodge rooms, this together with our professional and friendly service Riverside Oaks promises a memorable experience for golfers, families, couples and groups.
Discover Riverside Oaks for its golf and return for the destination
STAY & PLAY PACKAGES:
Package inclusive of:
Deluxe Room & Suite Accommodation from One (1) Night
Daily Breakfast
Dinner at Bungool Restaurant (Food Only)
2 X 18 Holes of Golf including Green Fees & Motorized Cart – Gangurru & Bungool Courses
PRICING: Per Person – AUD

Mid-Week – Monday to Friday:
Single: $495.00 Double: $415.00
Weekend – Saturday & Sunday:
Single: $585.00 Double: $485.00
Upgrade to Suite Accommodation (On Request)
Additional nights' Accommodation available (On Request)
Non Golfer – Deduct Green Fees
N.B. Bungool Course (Opens November 2014)
Conference Packages available
Group Packages available for 20 or more people with a 10% Discount.

All bookings subject to availability at the time of booking.
APPLICATION FORMS
To download a PDF version of the itinerary CLICK HERE
Good Golfing
ANTHONY HUNT
MOB: 0409 308 499
Email: anthonyhunt@piranhagolf.com